Stay Safe Online
Posted by Robin Franks on Tuesday, March 31, 2020 at 2:18 PM
By Robin Franks / March 31, 2020
Comment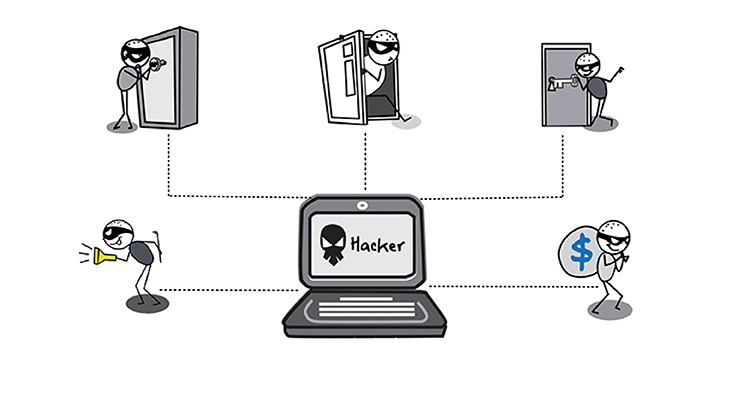 Cybersecurity spending is projected to reach $42 Billion in 2020. Consumers are increasingly concerned about protecting their personal information and data to avoid being a victim of cybercrime. Its estimated that 44% of consumers have personally been a victim of some form of cybercrime, yet many continue to freely provide their information without even knowing it.
There are many avenues hackers and criminals are using to obtain your data. Your personal information can be obtained using a variety of methods such as social media, fake emails or public Wi-Fi connections.
In recent weeks many Americans have spent countless hours on the internet, especially social media. As we become increasingly bored, many are falling victim to social media games and surveys. While it may be fun to get answers and participate with your friends to challenges like what type of flower are you, who is your actor twin, what is your favorite color, each of these surveys and quizzes are designed to obtain personal data.
Think of what some password challenge questions are.
Anniversary date, name of oldest child, favorite flower, first car, mothers first name, place you met your spouse etc.
Now let's look at what some of the social media games are.
What's your favorite vacation spot?
Post a photo with your pet? – usually includes the pet's name
Post a photo of you and your oldest child.
Post a photo of your husband and anniversary date.
Where did you meet your spouse?
Post a photo of you and your mother.
Post a photo of you and your best friend.
Many times, these games usually ask you to tag the person in the photo. You have now provided hackers with, the first name of your oldest child, your anniversary date, your mothers first name, your childhood friend's first name, name your favorite pet. Every answer gives cyber pirates more clues to resetting your passwords and gaining access to your identity.
EMAIL is also a commonly used method. Hackers send emails that look similar to banks and financial institutions that you know and trust. Often times, the email is requesting you to verify your account, or prevent your account from being deleted or review previous access etc. Usually the link in these emails are fake and when you fill in your account numbers or passwords, it gives the hacker access to your real account. If you receive an email requesting you update or provide personal information, you should never click the link. Go directly to that company's website and log in to your account as you normally would. If it is a valid request, the same request will show up in your account.
When using Public WIFI accounts, you should never log in to financial or confidential sites that are not fully encrypted. Always be sure to log out when you are finished. If you use Public WIFI frequently, you should consider using a VPN (Virtual Private Network), these can be obtained from a VPN service provider. There are also some add-ons or plugs-ins provided by some web browser that can help.
If you have more questions, some suggested sites to help are
Federal Trade Commission www.consumer.ftc.gov
FBI Safe Online Surfing www.sos.fbi.gov
National Cyber Security Alliance www.staysafeonline.org