Perfect and Easy Soft Pretzels
Posted by First Source Realty on Friday, September 6, 2019 at 1:33 PM
By First Source Realty / September 6, 2019
Comment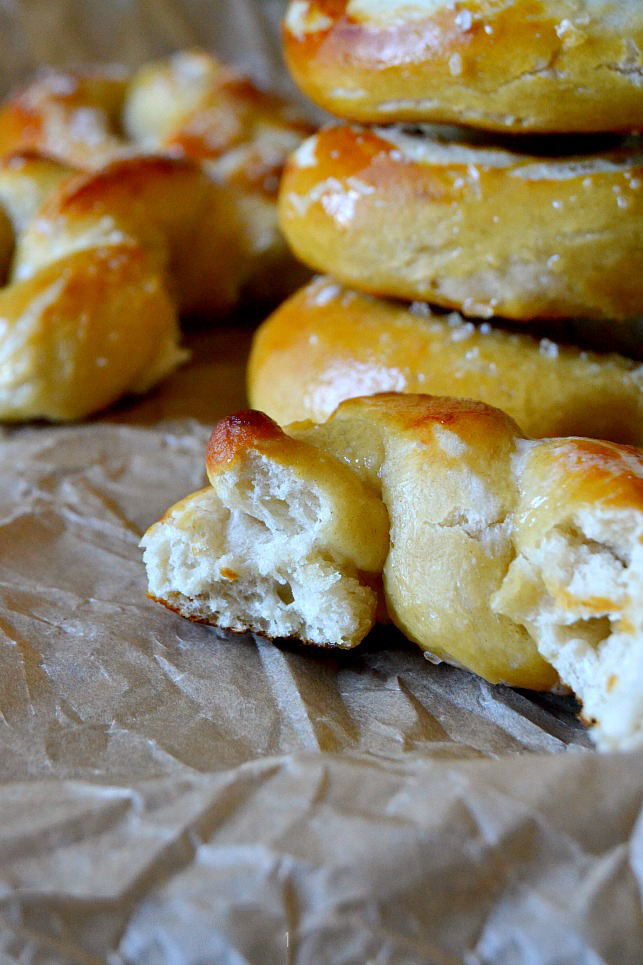 Prep time:
Cook time:
Total time:
Serves: 8
These Soft and Chewy Pretzels are so perfect and so simple! Even novice yeast bread bakers will find this recipe easy and fast! Only a 20 minute proof time before you have perfect mall-style pretzels in the comfort of your own home!
Ingredients
1 package (1/4 oz) active dry yeast
1 cup warm water (around 110°-115°F)
2 Tablespoons softened butter
1 Tablespoon brown sugar
½ teaspoon salt
2 & ¾ cups all-purpose flour (may not need all of it)
4 cups water
¼ cup baking soda
Coarse sea salt for sprinkling
¼ cup melted butter
Instructions
Place the warm water in the bowl of your stand mixer. Sprinkle the top of the water with the yeast packet. Let it dissolve for about 2 minutes. Once dissolved, add in the softened butter, brown sugar, salt, and 2 cups of the flour. Using a dough hook attachment, mix on medium-low speed until a sticky dough comes together and dough is smooth. Stir in any remaining flour, ¼ cup at a time, until dough begins to pull away from the sides of the bowl and when touched with a finger, does not stick and springs back lightly when touched. Place in a lightly greased bowl and cover with a tea towel. Let rise in a warm place for 20 minutes.
Preheat oven to 450°F. Line 2 baking sheets with silicone liners or parchment paper. GREASE whatever liner you use - trust me on this! I just spread a stick of butter around the parchment paper to make sure it is greased well.
Punch the dough down a couple times to break up any air pockets. Divide the dough into 8 equal pieces. The best way to do this is to cut in half with a pizza cutter, then cut each half into fourths. Using your palms and the heels of your hands, roll each piece into a 12-15" long rope on a clean work surface - do NOT flour your work surface, as this will prevent the stretch of your dough. Shape the rope into a circle with about 2-3" inch of each end overlapping (think the shape of a breast cancer awareness ribbon). Twist the ends where they overlap, then flip the twisted ends over the circle, pinching the ends into the circle to form a pretzel shape.
In a large saucepan, bring the water to a boil over medium heat. Add in the baking soda; mixture will bubble violently for a minute. Drop a pretzel into the boiling water using a slotted spatula. Let boil for about 30 seconds, then gently remove with the spatula, allowing excess water to drip off. Place on the greased baking sheets and shape back to pretzel shape if needed. Sprinkle with coarse sea salt, if using. Repeat with remaining pretzels.
Bake the pretzels for 10-12 minutes, rotating pans halfway through baking time to ensure even baking, or until golden brown on top. Brush with melted butter while still hot. Serve warm or room temperature!