Lumber Prices Continue to Soar
Posted by Robin Franks on Thursday, February 18, 2021 at 12:20 PM
By Robin Franks / February 18, 2021
Comment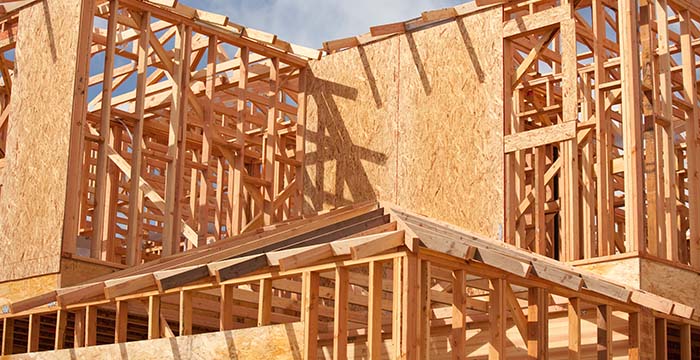 The price of lumber hit a record high last week and is up more than 170% over the past 10 months. That is prompting builders to have to raise new-home prices as soaring lumber costs add thousands of dollars to the price of building a new home, the National Association of Home Builders reports.
Builders point to tariffs on Canadian lumber shipments into the U.S. as exacerbating "unprecedented price volatility in the lumber market" over recent months.
"Lumber price spikes are not only sidelining buyers during a period of high demand, they are causing many sales to fall through and forcing builders to put projects on hold at a time when home inventories are available at a record low," NAHB reports.
Several builders reportedly are having to delay construction starts due to the higher lumber costs. Those delays are occurring at a time when home purchases and demand are on the rise.
"This increase has definitely hurt my business," Alicia Huey, a high-end custom builder from Birmingham, Ala., told NAHB. Huey says the lumber framing package on identically sized homes has more than doubled over the past year—$35,000 to $71,000. "I've had to absorb much of this added cost and even put some construction on hold because I would be losing money by moving forward," Huey says.
In late 2020, NAHB reported that a median of $16,000 had been added to the cost of a newly built home due to the increase in lumber prices. However, lumber prices are much higher since then and the added costs are likely even more now. Compounding the issue, appraisers are not factoring in the higher lumber costs, "which is disrupting home sales and preventing closings," says Carl Harris, NAHB's third-vice chair.
The rise in lumber prices is unsustainable and is pressing on the housing affordability crisis, notes Chuck Fowke, NAHB's chairman. "Given the ongoing period of high demand, the Commerce Department should be investigating why output from lumber producers and lumber mills are at such low levels," Fowke adds.
Source: