Considering A New Career in Real Estate?
Posted by First Source Realty on Monday, November 25, 2019 at 10:18 AM
By First Source Realty / November 25, 2019
Comment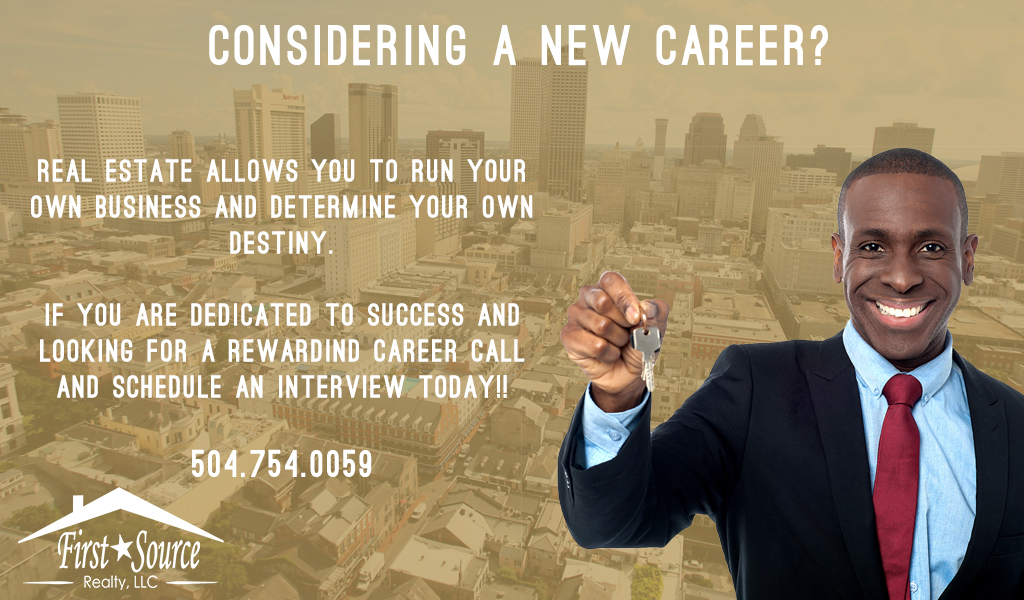 Why consider a career in real estate?
Real estate sales provide an opportunity to run your own business with a minimal amount of upfront cost. The ideal flexible hours can be a huge incentive, plus most people like the idea of not having a limit placed on the amount of income they can earn.
How long will it take to get my license?
Real estate classes are offered by local real estate schools, certified by the State of Louisiana, and are varied in format. Classes are offered online, full time, part time, and both days and nights.
How soon will I begin to earn income?
Highs and lows A part of any sales career – someone's will be higher than others; consistency over time will be the key to your success. Remember the first commission check may not come for a couple of months because real estate sales are paid on a commission basis and it takes time to establish and build a customer and client base for your business. So, it really depends on you and how much time you devote to developing your career.
How much can I expect to earn?
The median annual Real estate sales agent salary in New Orleans, LA is $39,533, as of January 30 ,2017, with a range usually between $38,620 - $50,285. There is no ceiling. The harder you work the more you can earn. There are many agents earing several hundred thousand per year.
How do I get business?
Your objective in this business is to assist people through the process of buying or selling homes. Your business can come from people you already know or from complete strangers. At First Source Realty, you will be trained in all aspects of prospecting and sales and will be able to create a course that will be long lasting. You will learn what tools to use to enhance your business performance.
What does it cost to get started?
We estimate the start-up cost to be approximately $1,500. Some of these expenses include your tuition, your real estate license, membership dues in the local, state and National Association of Realtors, errors and omission insurance, etc. Our manager will elaborate on what fees are due and when.
Tell us about yourself, it will only take a few moments!