Caramel Apple Cinnamon Rolls
Posted by First Source Realty on Friday, September 6, 2019 at 3:41 PM
By First Source Realty / September 6, 2019
Comment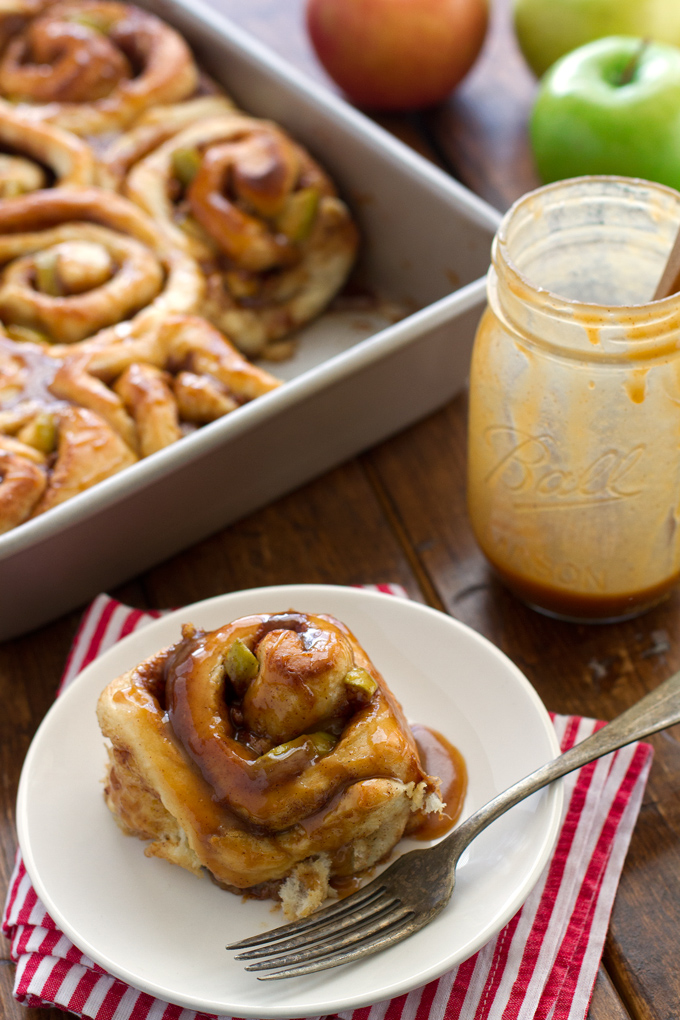 Ingredients:
Dough Ingredients:
4 tablespoons salted butter or ghee
3/4 cup milk (I used cow's milk)
1/4 cup water
3 1/4 – 3 3/4 cup all-purpose flour
1/4 cup granulated sugar
1/4 teaspoon salt
1 envelope 'rapid rise' or instant yeast (approx. 2 1/4 teaspoons)
2 tablespoons powdered milk
1 egg, room temperature
Caramel Apple + Cinnamon Sugar Filling:
2/3 cup light brown sugar, packed
1 1/2 tablespoons cinnamon
1/4 teaspoon nutmeg
5 tablespoons salted butter, softened
1 large granny smith, cored and finely chopped
1/4 cup chopped pecans, optional
3/4 cup caramel sauce (homemade or store-bought)
Directions:
dough: In a medium microwave-safe bowl, combine the milk, water, and butter. Heat on high for 1 minute, remove and stir. Continue to heat in 30-second intervals, stirring after each, until the butter melts and the milk is warm. If the milk is hot, allow the mixture to sit on the counter for a few minutes. You want it to be warm to the touch before you proceed. In the bowl of an electric mixer fitted with the dough hook attachment, add 3 cups of flour, sugar, salt, powdered milk, and the yeast. Add the warm milk mixture and the egg. Beat on medium-low speed to combine. If the dough is sticking to the sides of the bowl, add the remaining flour, 1/4 cup at a time, until the dough begins to pull away from the sides and form a ball. I needed the entire 3/4 cup for my dough. Continue running the dough in the machine for another 5 minutes on the medium-low speed setting. Remove dough from hook and cover with dough (just the doughs surface) with plastic wrap. Let dough rest for 10-15 minutes.
cinnamon brown sugar: In a small bowl, whisk together the brown sugar, cinnamon, and ground nutmeg until combined.
rolls: when the dough is ready, turn it out onto a lightly floured work surface. With a floured rolling pin, roll out the dough into a 14×10 inch rectangle. (you can trim the edges with a pizza cutter if you want the dough to be a perfect rectangle.) Using a small spatula, spread the softened butter out evenly over the entire surface of the dough. Sprinkle evenly with the cinnamon brown sugar mixture. Top with apple and pecan pieces. Drizzle 1/2 cup of caramel sauce on top. Roll up the dough tightly, cut into 12 even pieces and place in a lightly greased 9-inch round or 13 x 9 rectangle pan*. I used dental floss to cut my cinnamon rolls, it's easier than using a knife.
rest: Loosely cover the rolls with a towel and allow to rise in a warm, dark place for 20-25 minutes. If you have the time, allow them to sit for 35 minutes, that's even better. TIP: heat a 200 F degree oven, Turn the oven OFF and place the rolls inside the oven and allow them to rise. It's the perfect little trick to get them to rise in 20 minutes.
bake: When the dough has risen, uncover the dish. Place a rack near the middle of the oven and preheat the oven to 350 degrees F. Bake the caramel apple cinnamon rolls for 15-18 minutes or until the rolls are golden and cooked through. Remove and let cool on a wire cooling rack for 5 – 10 minutes. Drizzle with the remaining caramel sauce and serve warm. Serve with additional caramel sauce or powdered sugar.
Notes:
If you bake these cinnamon rolls in a 9-inch round pie pan only 11 of the rolls will fit. 12 rolls fit in a 13 x 9 rectangle pan. Also, you can bake these in muffin pans to get individual caramel apple cinnamon rolls.